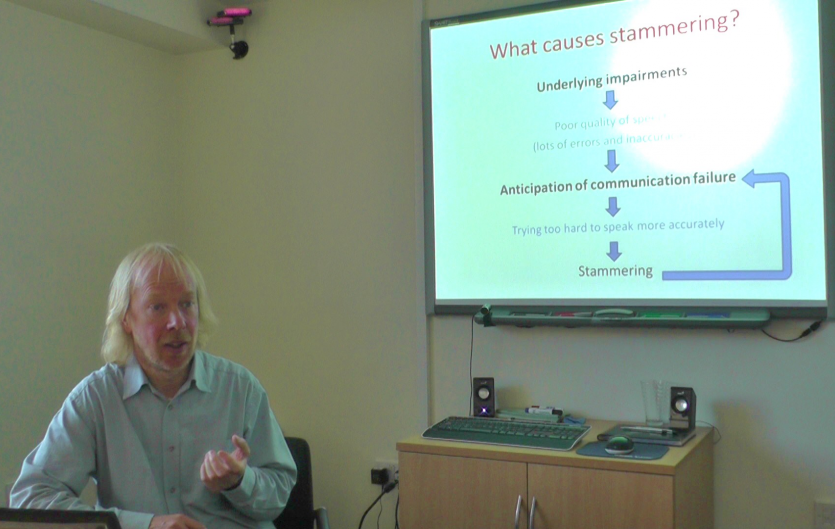 (Above: Stammering Self-empowerment Programme founder Paul Brocklehurst)
An online-based course designed to help develop a deeper understanding of stammering and the factors that affect it. 
What ages is it for?
16+
What does it do?
It teaches two new fluency-enhancing methods which are intended to help develop a more pragmatic (and less perfectionist) approach to speaking. In particular, they encourage people to focus their attention on maintaining the forward flow of speech rather than speaking fluently. 
What happens on a course?
There are three online modules. The first provides an understanding of what's currently known about stammering, including potential causes and factors; what can make it more or less severe; and what therapy approaches have been found to be most effective in various different speaking situations. 
The second module introduces a new fluency-shaping technique called 'Orchestral Speech', a way of getting clients through moments when they need to be fluent, such as when conversing with speech-recognition software.
The third module introduces a block-modification approach called 'The Jump'. Essentially this provides an easy means to get started again when getting stuck on a sound. It also reduces the fear of getting stuck and the tendency to get stuck. 
Note: currently the course does not attempt to tackle issues that people who stammer face as a result of poor self-esteem and the methods they teach are probably only of limited use to people whose stammering is covert. They hope to be able to rectify this short-coming in the near future.     
Who delivers the course?
As it's online-based, it is self-administered by clients. The modules include articles, slide-shows and lectures by the founder, Paul Brocklehurst. Paul is not a speech & language therapist but is an academic who has carried our extensive research into stammering.
How much does it cost?
Free.
Where can I find out more?
Visit the website.