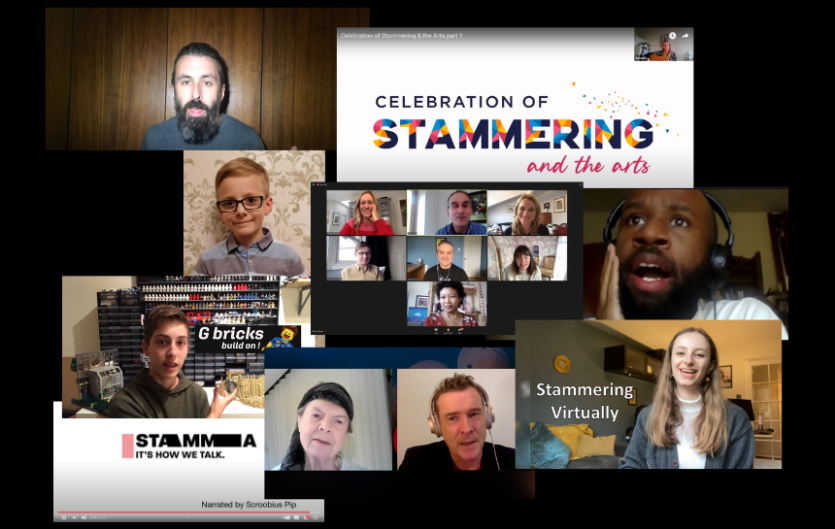 Check out these videos about, and to help with, stammering.
Subscribe to our YouTube channel to keep up to date with new content.
Help for parents
If you are a parent looking for information for your child, see also our For Parents page.
Has your pre-school child started stammering?
Should I be worried?
Is it my fault?
Giving praise to your child
Using neutral language with your child
How to help part 1: What you're trying to achieve
How to help part 2: Talking to a child who stammers
How to help part 3: Becoming comfortable with your child's stammer
How to help part 4: One-to-one time with your child
How to help part 5: How to talk about stammering
Read written transcriptions of our parent videos here.
7 tips for talking with a child who stammers
The video below was made by the Stuttering Foundation and features leading therapists who work with children who stammer:
Interviews & chats
Meet the National Diversity Awards 2021 Nominees
One to One with poet Zaffar Kunial
Owen Sheers chats with Zuffar Kunial about poetry, creativity and their links to stammering.
Interview with Sophie Raworth & Felicity Baker
 We asked them all about their BBC documentary 'I Can't Say My Name, from March 2021.
In Conversation: Margaret Drabble & David Mitchell
In a special event for International Stammering Awareness Day 2020, the bestselling authors and Stamma Patrons took part in an online discussion about the power of words and the language around stammering.
Interview/Q&A with author Jonty Claypole
We spoke with Jonty about his book 'Words Fail Us: In Defence of Disfluency'. Read our review of the book.
The Chat, with author Helen Rutter
We asked Helen all about her children's book 'The Boy Who Made Everyone Laugh'. Read our review of the book.
One to One with poet Owen Sheers
Award-winning poet Owen tells us about how his stammer has influenced his work.
Events
Celebration of Stammering & the Arts, parts 1 and 2
A day celebrating diversity and creativity in people who stammer, March 2021, organised by the Cambridge local group. Read more about the event.
The Big Event: Changing Perceptions of Stammering
An event we hosted for International Stammering Awareness Day 2020.
The Art of Communication 
A film created by Doncaster Stammering Association to raise awareness of stammering and celebrate difference. The soundtrack and images used are from the groundbreaking 2012 Art of Communication exhibition (Funded by Arts Council England). Pictures from the exhibition are now on display at the Willy Russell Centre for Children & Adults who Stammer, Liverpool. (Note: the silence at the start represents a block.)
For Children
'My Stammering Tap'
A fantastic visual description of what it's like to stammer. Produced by NHS Humber Foundation Trust and Fuzzfeed, as part of its 'Hear in Hull' project to promote stammering awareness.
Sam's video: 'Dear world...I rock my stammer!'
When we shared his poem on social media, became something of a celebrity. Read all about Sam.
Poem: 'I have a stammer'
Children read a poem about stammering.
For Young People
Becoming a YouTuber when you stammer
Meet Elliot, who set up his own YouTube channel about his Lego creations.
See the header Tash's Vlog below to watch videos from Tash, aged 24.
Stambassadors: Check out a series of videos featuring people talking about their career and their stammer. Stambassadors was set up by Action for Stammering Children and aims to encourage young people to think big when considering career choices.
Tash's Vlog
Regular vlogger Tash talks about living with a stammer
Stammering Virtually
The difficulties of video/virtual meetings when you stammer.
Responding to Ignorance
Tash talks about how she deals with people who laugh, comment or react negatively when she stammers. 
Meeting New People at University
Tash talks about the frustrations and anxiety around meeting new people. For anyone starting University, or about to start,she also shares the things that have helped her, and explains how she deals with the question, 'Have you forgotten your name?'
Talking on the Phone
Tash talks about the telephone and how hard it can be to use it. If you find it difficult too, see our Everyday Tips page for help with using the phone.
Introducing Tash
In her first video blog, Tash explains the work that goes into speaking when you have a stammer.
Our Campaigns
Find The Right Words
Launched in October 2020, this campaign was all about changing the negative language used around stammering. In the video, Scroobius Pip explains how we edited nearly 200 Wikipedia entries about people who stammer.
Scroobius Pip on the Find the Right Words campaign
Pip, STAMMA Patron and narrator of the campaign gives us a few words.
For Professionals
Working with, teaching, and employing people who stammer
A seminar we ran in 2020 on ways to create an inclusive working environment.