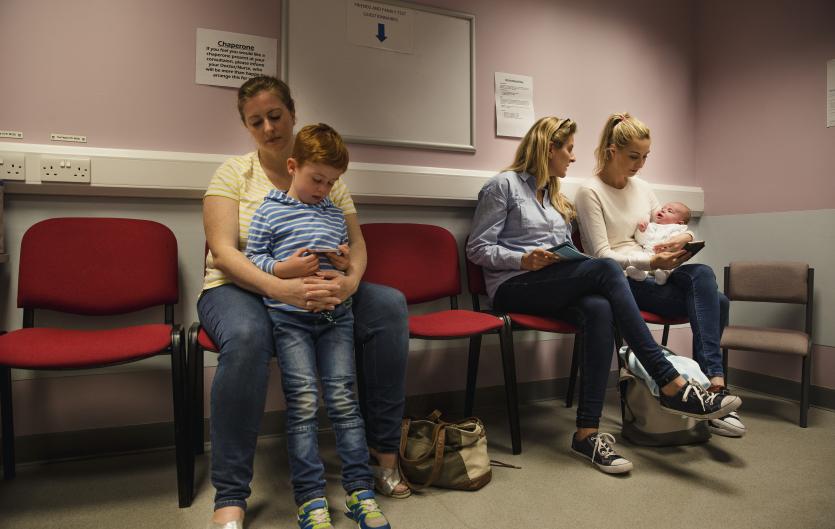 If you're a GP, nurse, health visitor, occupational therapist or physiotherapist and have a question about stammering, you've come to the right place.
Stammering is a serious communication problem which can have long-lasting consequences. That's why it's important to get the right help.
We've focused here mainly on pre-school children as this is the age group you're most likely to encounter. There are also sections on school-aged and older children and adults who stammer.
You can call our helpline for further help and information on 0808 802 0002. Calls are free and lines are open Monday to Friday, 10am to 12noon and 6pm to 8pm.
We also have information leaflets for parents, children, young people and adults which you can read and share with others. Download them here or order physical copies for free here.
What is stammering?
Stammering, or stuttering, is when someone:
puts extra effort into saying their words
has tense and jerky speech
blocks on a sound for several seconds ("... I take the bus every day.")
stretches sounds in a word ("I went for a wwwwwalk today.")
repeats parts of words several times ("hel-hel-hel-hello.")
stops what they are saying half-way through their sentence
shows visible signs of tension when trying to get a word out
may become anxious, distressed and reluctant to speak
may avoid some speaking situations
has particular difficulty saying their name.
Facts about stammering
8% of children will experience some stammering at some point.
Around 75 to 80% of children will stop stammering either naturally or through speech therapy.
Up to 3% of children will continue to stammer into adulthood.
Stammering usually starts between the ages of 2-5 years but can start later.  
Stammering can start very suddenly, overnight, or more gradually.
Boys are more likely to continue to stammer than girls.
Referring as early as possible to a Speech and Language Therapist is important.
Stammering is highly variable – it can come and go and often depends on the situation.
Some people go to extreme lengths to hide their stammer and you might not notice any stammering behaviour (see our information on 'covert stammering'). If a client says they have a stammer and want help, it's important to believe them.
Take a look at this interactive resource Let's talk about stammering from Bradford District Care NHS Foundation Trust, which sets out to 'bust myths and highlight evidence-based facts about stammering'.
Pre-school children
Early Referral
Around one in 12 children will start stammering between the ages of 2 and 5. We recommend an early referral to a Speech and Language Therapist because:
a Speech and Language Therapist needs to evaluate the risk of persistent stammering. If the child seems low risk they will monitor progress, if high risk they will intervene.
intervention close to onset takes less therapy time and can prevent later psychological difficulties.
empowers parents and other key workers.
there can be a bit of a wait between referral and the first appointment.
How to Refer
Health professionals can refer directly to the local NHS speech and language therapy department, with parental consent.
To find out details of the local speech and language therapy department, type into a search engine: 'children speech and language therapy + location'.
Many departments have an open referral system and will accept a referral directly from parents /carers.
We can provide contact details for NHS therapists. Contact our Helpline.
What does a Therapist do?
Speech and Language Therapists provide a range of early intervention approaches, some that work indirectly (change communication within the environment), and some that work directly on the child's speech.
Therapy may also address confidence and self esteem, areas which can be undermined by stammering.
Speech and Language Therapists work with carers, preschool staff and teachers to look at factors which may be significant in the child's life.
Speech and Language Therapists work closely with parents and carers to give them knowledge and skills to help their child.
Risk factors
The following factors indicate a child is at greater risk of developing a persistent stammer.
If you observe a child stammering, or if a parent reports hearing this, and one or more of the following factors are present, refer as soon as possible to speech and language therapy:
A family history of stammering or speech or language problems
The child is finding learning to talk difficult in any way
The child shows signs of being frustrated or in any way upset by their speaking
The child is physically struggling when talking
The child has been stammering for more than a few months
The parents have noticed an increase in the child's stammering
Parental concern or uneasiness
The child's general behaviour is causing concern.
The Michael Palin Centre for Stammering, a specialist centre in London, is a useful source on information and can provide a consultation service to children and families living in any part of the UK.
School-aged children (ages 5-16)
Some children will start stammering after the age of 5. The later a child starts stammering, the less likely they will spontaneously recover but stammering can be very unpredictable. The longer a child has been stammering for, the less likely they will stop stammering altogether.
As a child becomes older, they might develop a more complex pattern of stammering and negative thoughts and feelings about stammering. They are at risk of being teased and bullied, which can affect their self-esteem.
Refer as soon as you can to the local NHS Speech and Language Therapist, with parental consent. There are also group courses available for children and teenagers, accessible to anyone (not just for those living locally).
The Michael Palin Centre for Stammering: Two-week courses in school holidays in London for children aged 10-14 and their parents, and for young adults aged 15–18. Tel: 020 3316 8100.
The Fluency Trust: Residential course in Devon for children and teenagers and children who stammer, age 10-17, combines intensive speech therapy therapy with outdoor pursuits.
Tel: 01793 466790.
City University: Five-day stammering intensive courses in London in school holidays for young people who stammer aged between 8-18. Tel: 020 7040 0150.
The Talking Out Residential: Five-day residential courses in Yorkshire and the North West for ages 12-16, combining intensive speech therapy with outdoor activities. Tel: 07763 719272
Tips for talking with children
Video: 7 tips for talking with a child who stammers
Watch this video made by the Stuttering Foundation, featuring speech & language therapists who work with children who stammer:
Adults
For adults who stammer, there are lots of different types of therapy and courses which can help if that's what the person wants. Some people who stammer are fine with the way they are.
It's possible that the person asking for help shows no signs of visible stammering – they could have what is called a covert or interiorised stammer. It's important you take their concerns seriously and believe them when they say they stammer.  
If your client or patient is looking for help, we'd recommend first to find out about NHS speech and language therapy. If this isn't available in your area, there are other sources of support:
Airedale NHS Foundation Trust provides therapy via video conferencing (teletherapy) once funding has been secured via the local GP.
City Lit provides group stammering therapy courses for adults living in and around London. Their intensive courses would be suitable for people living outside of London if able to pay for accommodation or can stay with a friend or relative.
The McGuire Programme runs intensive courses for people who stammer, all over the country.
The Starfish Project runs intensive courses for people who stammer in Sussex.
Therapy provided by Airedale NHS Foundation Trust and City Lit is delivered by registered speech and language therapists, accountable to the Health and Care Professions Council. The McGuire Programme and Starfish Project are delivered by people passionate about stammering but are not accountable to any professional body.
The adult who stammers might also be interested in joining a local stammering group, where they can meet others who stammer, get support, share experiences and practise techniques or speaking situations. See our local groups page for a list of UK groups. Most groups welcome health professionals who want to learn more about stammering.