Image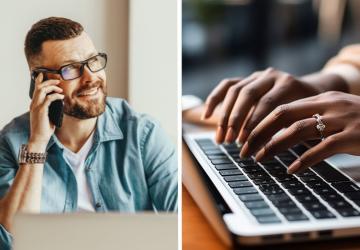 New Volunteer Opportunities
Thursday 31st August 2023 - 15:30
31st August 2023
Help us make a difference for people who stammer with these exciting new volunteer roles.
As the summer sadly draws to a close, we're looking for people to help with our expanded support services. Would you like to apply?
We're looking for volunteers who can work from home on our:
Helpline Service (sorry, this role has been filled)
Employment Support Service.
We will give you full training and support in the roles. More details below.
Helpline Services Role
Sorry, this role has been filled.
Employment Services Role
With our new Employment Support Service, we work with individuals and organisations on issues related to stammering at work. We'd love to get some volunteers involved in the service so that we can benefit from your skills and experiences. Apply now and you'll be helping the service reach more people.
We're looking for volunteers who can work ideally 4 hours a week. This will be split between Monday afternoon and another day of your choice. Download the document below for full details. 
To express an interest in volunteering on the Employment Service, or if you have any questions, please email employmentsupport@stamma.org or phone Kirsten on 02045 824 130.
Downloads