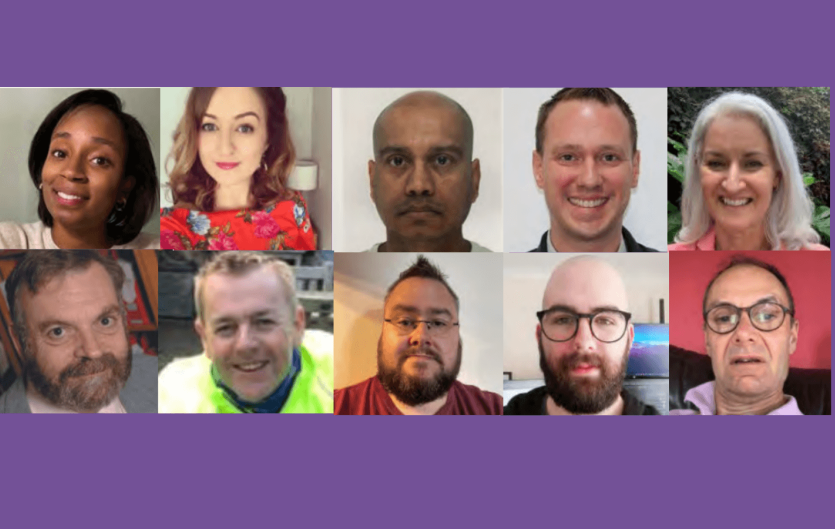 8th September 2021
It's Trustee election time again. This year a whopping 10 people are standing as candidates. Watch the hustings events and read about each candidate below.
Voting in the election is now open to STAMMA Members, so check your inbox for details. If you haven't received anything, email us at mail@stamma.org
Hustings
Watch the two hustings events below, where each candidate answers questions and explains what they can bring to the Board. Both are hosted by STAMMA Trustee Betony Kelly. Scroll down the page to read the candidate profiles.
Hustings night 1
Featuring Chantal Anderson, Rhian Binns, Paul Fix, Deborah Johnston and James Mawrey. Recorded on Tuesday 7th September.
Hustings night 2
Featuring Colin Marsh, Christopher Mercer and Craig Pryde. Recorded on Thursday 9th September.
Candidate Profiles
Read about each candidate by clicking on their names below (listed in alphabetical order). We invited each one to:
Tell us about themselves.
Tell us what skills and experience they can bring to the role. We said we have a particular need on the Board this year for candidates with skills and expertise in fundraising, staff and volunteer management, governance, speech and language therapies, and media and corporate communications.
Tell us how they can meet the commitment needs of the Board with their availability, and what difference they hope to make as a Trustee.
Supply social media links and a video, if they wished. For those who did, we've added them below.
One candidate, Charlotte Lindley, stepped down from the process for personal reasons.
Chantal Anderson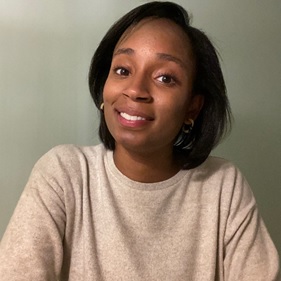 I want to become a Trustee of STAMMA as it brings me great happiness to support others, and as a person who stammers, I have a clear understanding of the types of things that challenge us.
My stammer became most severe aged 16, at a time when I could have done with being able to communicate easily. Ten years of overcoming obstacles despite my stammer has taught me that the primary ceiling that exists for us who stammer is miseducation.
I want to use my lived and technical experience to create further opportunities for people who stammer, through continuing the brilliant work done at STAMMA; to educate non-stammerers and make the general population better allies; to support people who stammer through important milestones, and pushing to ensure that people troubled by stammering are looked upon just as favourably as everyone else.
My professional experience within the Civil Service and my personal experience volunteering in the Army Cadets (Instructor) and the McGuire Programme, within which I am a member, has enabled me to work well with a diverse range of people. I particularly enjoy working with young people and would be interested in helping lead Youth Groups. 
My aim is never to be the loudest person, but instead the most inclusive and attentive person in the room, and I constantly work to inspire and achieve best practice in everything I am involved with. I am not afraid to give compliments where it is due and equally I am not scared to speak up and provide constructive feedback and suggestions when I think it is reasonable to say that something should be done differently. 
Currently, I am studying towards a degree in Taxation, and juggling this with a job where I have to present and mentor less experienced colleagues on technical subjects has given me the confidence to be open about my stammer. As a potential Trustee of STAMMA, I am committed to making meaningful contributions to the charity.
I will comfortably meet the commitment expectation of being a Trustee of STAMMA in terms of my availability. I work full time, 37 hours per week, but have the option to work flexibly and can start early so that I am available most weekdays often by mid-afternoon. I do not work weekends, and I also have a full UK driving license and have my own car.
I hope to contribute to changing the trajectory for people who are struggling with their stammer, by increasing traffic to the support that STAMMA provides, getting the word out about the charity, helping lead wholesome events and much more.
Rhian Binns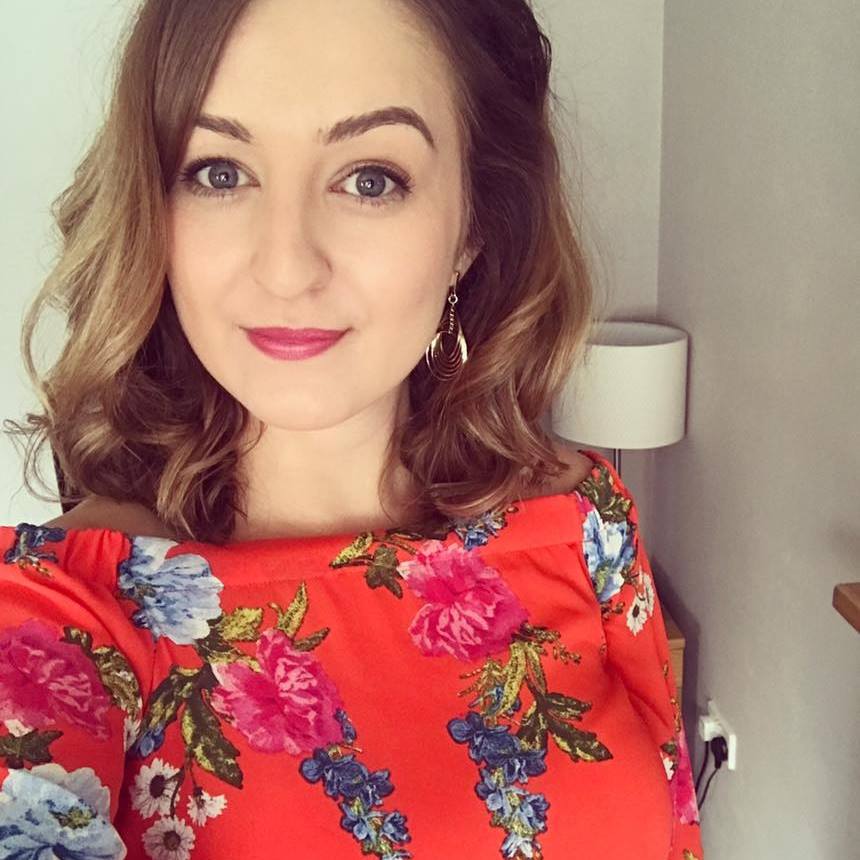 I would love to become a STAMMA trustee, to have the opportunity to bring my knowledge, skills, and experience to the charity and continue to raise awareness of stammering. 
I've stammered from the age of 2. I know the ups and the downs that stammerers go through, mostly in silence and I want to change this. We need to make a stand that it's OK to stammer, it isn't something we should be ashamed of or scared of doing. Our stammers make us beautifully unique, and I want to be part of a great network that makes stammerers of all ages realise that they're not alone. 
I started this journey of campaigning to raise awareness of stammering when I was laughed at by Costa Coffee staff when ordering and tweeted to raise awareness. From then on, I've hosted webinars, spoken in schools and I want to carry on raising awareness of stammering.
My role as PR and Communications Manager is being a key member of the marketing and wider commercial team dedicated to delivering the PR, content, and social strategies for the business, that supports the delivery of their overall strategy. I could bring good experience to STAMMA's media and corporate communications. 
Social media has changed dramatically in the last 18 months, and the shift in digital behaviours due to covid-19 has meant that different social media channels have arisen. Young people, particularly 16-30 years, have shifted from posted articles to video led content. 
STAMMA have a brilliant opportunity to support individual experiences in a way we've only just been able to, by reaching young audiences and helping shape the future stammering generations. In addition, traditional press coverage is shifting, it's all about driving people to your website, through tracking codes, digital press releases and marketing. I'm level 6 CIM qualified with excessive knowledge in marketing and communications. I could bring to the role social media development, growth of membership and support for every stammerer no matter their age.
I'd continue to support anyone who stammers and tackle the stigma, ignorance, and discrimination that people who stammer face so they can live their lives in full and with dignity. Joining an amazing charity with my experience, as a team we'd make a huge difference to stammerers' lives no matter their age. 
Having worked in the public sector I understand the governance and will act in a professional manner. My employers support me as a potential trustee. I'd be an active advocate for STAMMA, continually driving the mission, and ensure we continue to create a better world for people who stammer.
Facebook: Rhian Binns
Instagram: rhianbinns
Twitter: @RhianBinns
LinkedIn: Rhian Binns
Watch Rhian's campaign video below:
Ranjit Dussaruth
My name is Ranjit and I have been living with a stammer as long as I can remember. Since childhood, stammering has been a constant struggle for me both at a personal and up to now at a professional level too. 
It is a problem very much close to home, that is the one of many reasons why I am interested to be at the forefront of an organisation which is committed to work as a team to address this problem and make it an area of high interest because it can make a big impact on people who live with a stammer. 
I know too well how this problem can have a big impact on one's life. If I can help one single person achieve his or her full potential in life, then it is worth doing it. In my day, I could hardly ask for help because it wasn't available and moreover it was regarded as a stigma. I have to believe that all is not lost for stammerers.
Having worked as a Shift Leader before, I want to use the skills and experience I have gained and apply them to relevant areas where this charity is working on. 
One of the areas which is of high talk these days in my previous clinical setting, is Clinical Governance. I have worked in both private and NHS hospitals, where in both organisations we as staff members are held accountable for continuously improving the quality of services we provide. We also constantly have an obligation to safeguard high standards of care and create an environment in which excellence in clinical care will flourish. 
I have been involved in audits and complaints including patient feedback. It has given me an insight into our shortcomings and where we have gone wrong as a team and try to work out how we can improve in areas where we have failed to meet standards of practice. We always address these issues in our staff meetings, share our ideas and work on it as a team in an effective manner. I have indirectly been involved in some sort of fundraising for a Children's hospice in selling raffle tickets for the charity.
I am a freelancer now and that has given me an opportunity to get involved with something that is close to home and use my availability to make a positive difference with people living with a stammer. 
I always feel if ever I had some kind of help at the very first place, it would have helped me gain confidence and approach my challenges in life more positively. I personally think that teachers at school can play a vital role in identifying these pupils or students struggling with stammering and in turn help build confidence and eventually achieve their full potential in life.
Paul Fix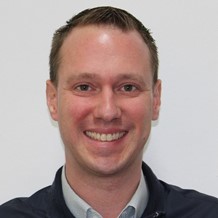 I'm standing to be a Trustee as I want to help drive and deliver STAMMA's work in supporting people who stammer and in tackling wider ignorance and discrimination. 
I have a passion for the cause, and a professional skillset (people management and volunteering) which fits the profile of what the Board has asked for. From a personal perspective, I've stammered all my life — experiencing emotions ranging from extreme distress through to a sense of elation when things have gone well.
As an individual, I know that my personal resilience, confidence and drive to succeed has gradually improved over the years. I often reflect on how I manage my stammer, what's helped me, and to think about how I've coped with setbacks. I should like to think that these experiences and reflections would help me to be a thoughtful and reflective Trustee.
I have skills and expertise in people management, volunteering and in governance. My current role is Head of People Development and Volunteering for a big national charity with 750+ staff and 1500+ volunteers. My job includes everything from appointments, wellbeing and managing performance through to the practical organisation of teams to deliver what we need. I'm hands-on where I can be - always talking to people, listening to their concerns and seeking to implement improvements. 
I'm particularly interested in new and innovative ways to manage and support volunteers, and in how we ensure that their experiences are satisfying and enjoyable. In a previous role, I worked for another big national charity in their governance team, supporting the Board in identifying and managing risks (including actions we needed to take to tackle fundraising and improve communication/reputation) and in longer-term planning. The Pandemic has affected all charities, and I want to be part of ensuring that we (STAMMA) remain strong and resilient at a time when many charities are struggling to deliver services and raise the funds they need.
In the last year I have volunteered with STAMMA on the recruitment of two staff members, the media campaign around the Apple woozy emoji and updating the volunteering policy for the helpline. It has been great to be able to get stuck in and I'm keen to do more. Having been a trustee and worked with Trustees, I know the time commitment and the responsibility that comes with the role — and the importance of quick responses to urgent issues which arise. I have the support of my employer and can work flexibly to ensure I can be available and responsive when unexpected issues arise.
Twitter: @paul_fixy
Watch Paul's campaign video below:
Deborah Johnston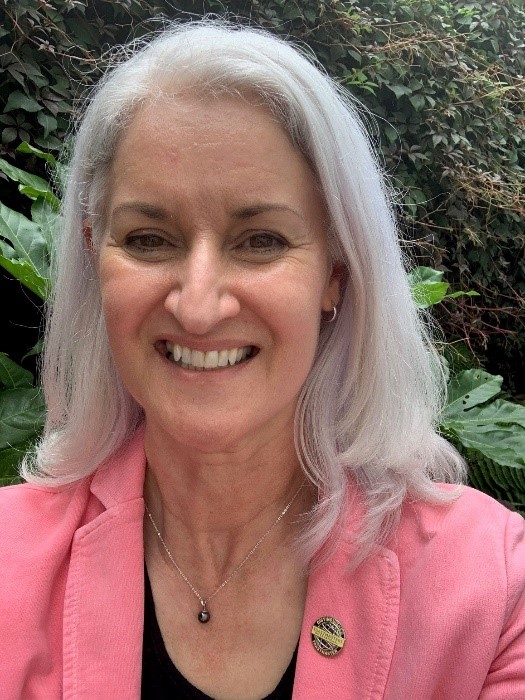 I'm passionate about education, having dedicated 20 years to higher education, becoming a professor and a Pro-Vice Chancellor of Education. 
As a person who stammers, I'm worried about the experience of the 70,000 uni students who stammer. Stammering is so personal and variable, bringing strengths and challenges. However, many students who stammer feel isolated and unsupported. I've put in place various activities in my own unis, published blogs and worked with others to produce guidance for the sector. I'm also a member of the Disabled Students Commission (DSC). I'd love the opportunity to work even more closely with STAMMA. 
My vision: to support STAMMA to have stammering highlighted in the education sector, not only to benefit current students and staff, but also to support graduates as they begin their working lives.
I have experience in competing successfully for large public funding, and would want to support STAMMA with bids to fund key activities, particularly those designed to improve inclusion and diversity in education. I'm really excited to think that there are excellent opportunities that we could bid for in partnership with others across the education sector. 
Second, I have a wide experience of staff and volunteer management. London South Bank University (LSBU) has around 2,000 staff and 18,500 students. I'd be keen to support on the 'formal' stuff (the policies, processes and CRMs) but also the softer and more important piece of capturing passion, ideas and enthusiasm. Particularly at a time of change, it can be challenging but it's important to make the most of what we can all bring to STAMMA. I'd hope I could also support on governance issues. I've been on a board in the past (at SOAS University and also reported to the board at LSBU) and the bread-and-butter of my work has been focused on turning strategy into action for large complex organisations.
From my previous experience, I have a good idea of the commitment involved. I've always been an active person, balancing different activities. As well as my work and the DSC, I am an active Toastmaster and as my voluntary commitments for them have reduced, I have more time on my hands. I'm really keen to expand awareness in higher education to support young people and also staff. Just imagine if we could support those young people who stammer at university at such a key stage in their lives — and also gain them as lifelong STAMMA supporters!
LinkedIn: Deborah-johnston-09321489 
Twitter: @Dj3Johnston
Watch Deborah's campaign video below:
Colin Marsh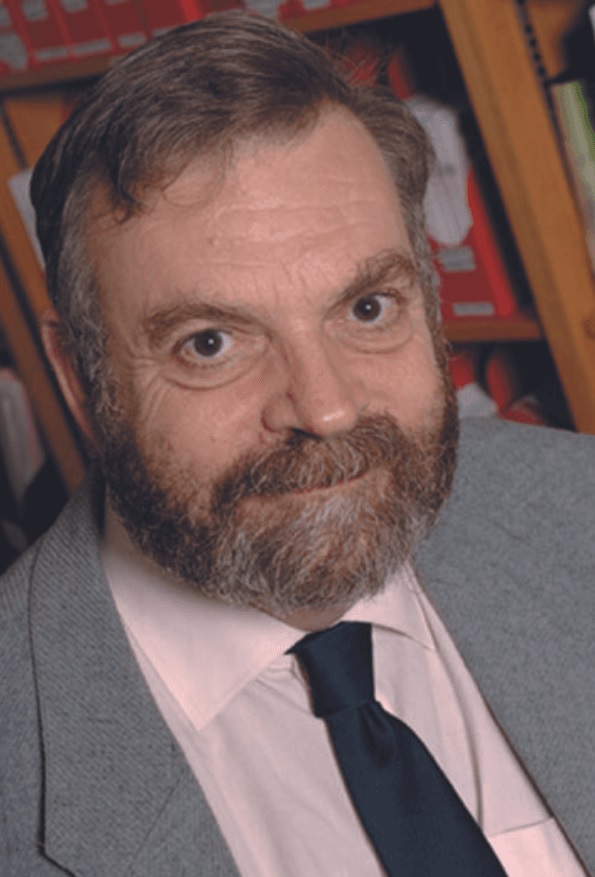 It is no secret that I have previously served some terms as a Trustee, and it would be dishonest of me not to admit that I am attracted by the prospect of returning. 
However, I realise that STAMMA has changed in recent years, and I certainly do not believe in looking back. I hope that I can bring to the Trustee Board a combination of past experience and an eagerness to apply that experience to the future of STAMMA. I am open to new ideas, and would welcome the chance to take these forward.
Since coming to the end of my earlier spell as a Trustee, I have acted as a Consultant to the Richard 111 Society as they prepared to move to Charitable status, and more recently I have joined the Board of The Friends Publishing Ltd, which is on a similar journey. 
I hope, therefore, that I may claim a detailed knowledge of the charity world and charity governance. As the Friends Publishing Company is charged with publishing a weekly magazine together with a quarterly journal, as well as a series of 'one-off' items, I have learned a lot about the practicalities and logistics of publishing. I have also become involved in managing staff and finances, and furthering the aims of the company. As a Careers Adviser prior to retirement, I have had to acquire high level communication skills — no mean feat for a person who stammers.
I hope that I have a demonstrable ability to juggle the various demands on my time — during my 12 years as a Trustee, I believe I only missed one Trustee meeting — so I am satisfied that I can meet the expectations of the role. Since I am now retired from full-time employment, I have time to take on more commitments and am able to take on tasks for STAMMA without having to work around other commitments.
I am not a great fan of social media, although I do use Facebook, so do not have any 'handles' as such, but I am perfectly happy for my email address to be available in the public domain. (If you would like Colin's details, contact the office by emailing mail@stamma.org)
James Mawrey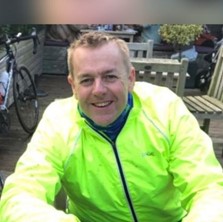 A bit about me — I am a lifelong stammerer (lived experience), family man (two wonderful boys), have an active social life (most notable cycling — albeit lycra is not a good look for me) and am Executive Director of People within a large NHS organisation (reporting to the CEO). 
As noted I am a very senior leader in the NHS, and well known in the wider Human Resources profession. As such I believe I can help STAMMA strategically with networking and open 'many doors'. Furthermore I have a wealth of business experience (MSc in Business), so I will be able to offer any advice / support to the Executive team to help with the organisation's strategic development. My stammering journey has not been an easy one and I really am very keen to help share what I have learned throughout my life and how I have overcome any challenge.
Governance — I am a voting member of a Trust Board of Directors (£375million turnover and 6000 staff). Reporting into the Trust Board is three Sub-Board Committees (Quality Committee, People Committee (I lead this meeting), Finance Committee). Below these Sub-Board Committees is a wealth of working groups which operationally manage the 'day to day' business of the organisation. As Executive Director I chair many of these groups.
Communications — I have been Director lead over a large Communications & Marketing team. During this time significant progress was made in operationally delivery (KPIs e.g. social media usage). 
Charitable Funds — I have been a member of the organisation's Charitable Funds Committee. During this period charitable giving increased. Speech and Language therapies — I have accessed these services throughout my life, and my youngest son now similarly uses these services (he has a severe stammer). Volunteer Management — The Volunteer team falls within my portfolio (Exec leadership). In this time the number of volunteers has grown dramatically.
Corporately I wish to help the Executive team grow the STAMMA organisation. Ensuring that this growth happens with the cultural values at the heart of the organisation. Individually, I want to support other stammerers in their personal journey to keep 'shining bright'. I have spoken with my CEO already who has agreed release from work. My wife is VERY supportive of this application and is aware of the time pressures.
Watch James's campaign video below:
Christopher Mercer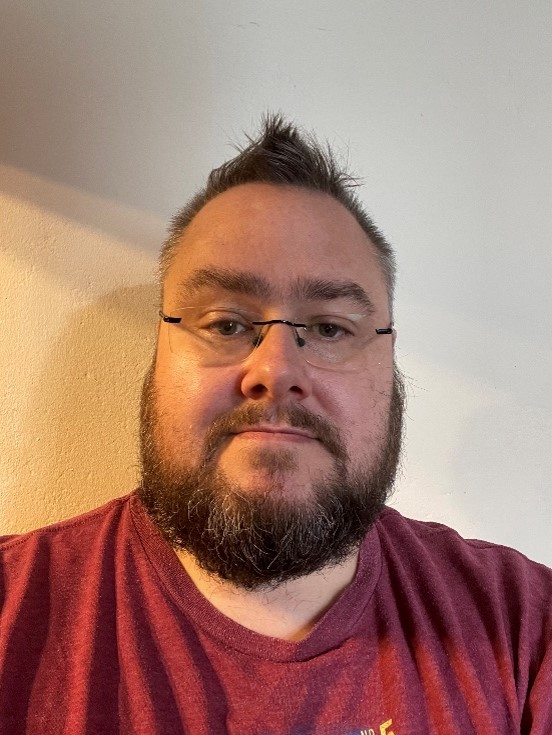 I inherited my stammer from my mum and had speech therapy as a child. During school I was bullied partially for my stammer. During my degree, I grew in confidence and took part in things to push myself - e.g. a part time job in a call centre which was transformative in how I manage my stammer.
I think my stammer has given me something. My coping mechanism is to think a few words ahead and 'edit' them, so I really think about what I'm saying. It has also made me determined and taught me patience and self-discipline. Now I manage a team of software engineers in healthcare. I want to become a trustee so that I can help people get the help that I didn't really have, to bring recognition to this condition and to demonstrate that people with a stammer can have a good career, and a rich full life, something I felt was impossible at times.
I am a Chartered Engineer and a Chartered IT Professional, and have worked in IT as a support engineer, then developer, then manager of developers, for around 20 years or so. I can bring all of these skills to the role. I am an experienced manager so would be happy to bring my management and organisational skills to the role.
I've also done a fair bit of charity work, including as a STEM ambassador and University mentor so have experience there. As part of my job, I give talks and presentations to groups from 3 or 4 up to hundreds. As well as technical and people management, I am responsible for technical governance within the team and to a lesser extent within the department. I'm also very approachable and am easy to talk to, so I've been told, so am happy to help in a pastoral capacity as well.
I've been told there are Trustee meetings in London around 4 times a year (on weekends) and day-to-day requests. I am in Plymouth however my family live in Andover in Hampshire so I do not foresee any problems here. For day-to-day commitment, my employer is very supportive with my existing charity activities and adding another one is not an issue. I have spoken to my manager already and he is supportive. I have access to emails 24/7 (aside from being asleep) so am confident I can react quickly when needed. My employer also offers 2 days off a year for me to spend working for charity.
LinkedIn: https://www.linkedin.com/in/christopher-mercer-61619172
Watch Christopher's campaign video below:
Craig Pryde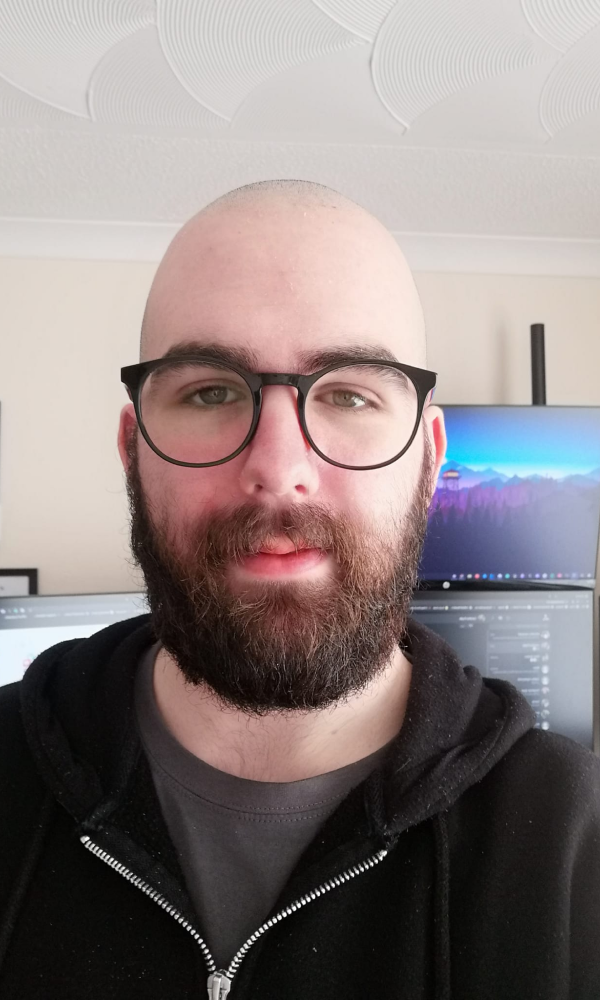 I'm a 24-year-old software engineer and web accessibility advocate with a passion for creativity. 
I have stammered most of my life and have some control over my speech impairment. I actively mentor less experienced software engineers and speak at universities to help others get into tech. I use my social channels to talk about stammering and how technology can help create a more equal future.
I founded a company called Different Breed that aims to tear down digital barriers through technology and challenge businesses to realise accessibility matters, and we are more than just numbers on charts. 
I wish to join the board at STAMMA to offer my expertise within technology to help the charity move forward and modernise. And also inspire others with impairments to chase after their goals and visions.
I can bring to the role a deep understanding of technology and best practices for businesses to succeed within a digital world. I can help lead the modernisation of areas of the charity that are not online and can help train members on how to use chosen pieces of technology. I am an entrepreneur at heart and can bring an active mindset to the team through generating ideas and assisting with social media campaigns. 
I can also help set up and streamline fundraising methods to maximise the capabilities for people to get involved and donate. I have experience in project management and setting up software to help with task delegation, which could help the charity improve processes and actively track the teams' completed projects. I also have design experience and can aid in the creating of assets for digital and physical campaigns.
I'm available most weekends to aid with any STAMMA related tasks. I also have immediate access to emails and always stay connected throughout the day. I can also use annual leave from work to attend meetings and I am happy to travel to London when needed for face to face chats. I can reply to digital communications quickly and I have more than enough free time throughout the week and at weekends to complete tasks. As a trustee, I hope to use the experience to connect with other people who stammer and bring fresh ideas and help lead in areas for the charity.
LinkedIn: https://www.linkedin.com/in/craigpryde/
Watch Craig's campaign video below:
David Rose
I've stammered all of my life and been a member of the BSA and the rebranded STAMMA for many years. I have been a silent member attending only one or two open days. I now feel it is time in my life to give something back. 
Over the years I've suffered an emotional rollercoaster ride trying to fight my stammer. Various therapies and fluency shaping techniques have helped. It was not, however, until I started working on a more holistic acceptance approach that I have been able to achieve a quality of life that I never thought possible. 
Whilst I am no longer consumed by the fear of stammering, I do not take for granted saying what I want to say, when I want to say it. I will always remember my journey and can vividly imagine past stammering episodes trying to do what so called 'fluent', or so I thought, people took for granted, I'm married with 21 year old twin daughters and live on the border between Staffordshire and Shropshire.
I have a variety of skills that I could bring to STAMMA. I have worked in IT as a freelance test manager for many years. I am disciplined and focused with good soft skills. I'm able to work with and get the most out of people in the management of goals. I'm experienced at planning and conducting meetings face to face and virtually.
I'm a free thinker and always question the merits of what I do or what I'm asked to do. We all have skills and experiences and together we can all achieve more. I learn from others, young and old, every day. I also learn from mistakes I make. The day I stop making mistakes is the day I stop learning. 
During COVID I've spent a lot of time in the company of my daughters. As a result I have a different perspective and narrative on many facets of day to day life. I am more understanding of the issues foremost to the younger generation. They keep me young, current and I readily switch lenses to see the world as a young person does stepping out on their life journey. These experiences will enable me to readily work with and support all ages. 
Twitter: @Cassreskid 
FB DavidRose (lives in Norbury)
Instagram: Casareskid