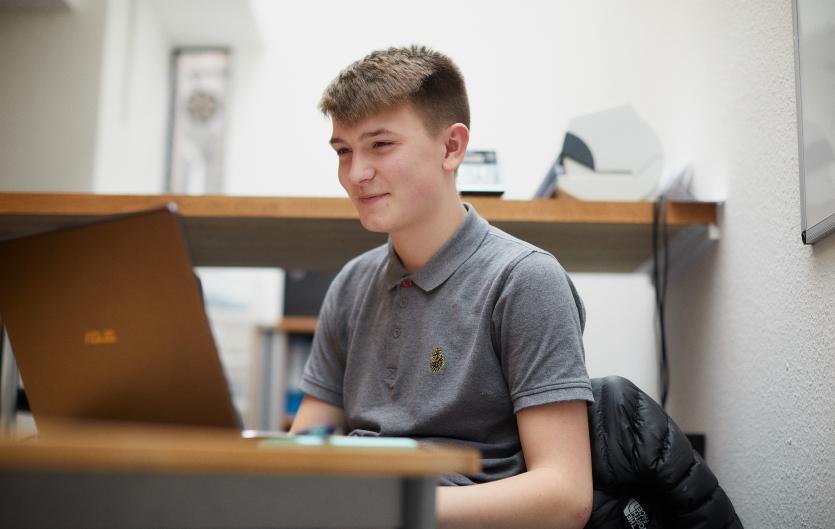 Connect with us and the stammering community online.
Group video calls
Support or self help groups
Some local stammering groups now meet online and welcome people from all over the world. See our Online Events Calendar to find out which groups you can join.
Stutter Social
This is a Google Hangout where you can see and talk to up to 10 people at a time. You  will need a Google+ account to take part. They also have a Facebook page. 
Online Events
We have been putting on quizzes and workshops over Zoom. See our Online Events Calendar to see what you can join in with.
Social Media
Follow us on Twitter and use @stammer.
Keep updated with our activities by joining our Facebook page. We've got nearly 10,000 followers, so come and join us.
Follow us on Instagram and use @stammauk.
Subscribe to our YouTube channel. 
Facebook support groups
The BSA Facebook Support Group 
Moderated by STAMMA staff and volunteers, our Facebook group is a space where people can share experiences, ask for advice and talk openly about stammering. It's a 'closed' private group, so any posts made in the group are only seen by group members. See our Facebook group rules.
The Young BSA Facebook Group
Affiliated with but not overseen by STAMMA, this is a closed Facebook support group for ages 18 to 30. 
UK Peer to Peer Support Group for Parents of Children who Stammer 
A Facebook group for parents of children who stammer to support one another and share their experiences, thoughts and ideas.
Blackpool, Fylde & Wyre Support Group for Parents of Children who Stammer
A Facebook group for parents in the Blackpool, Fylde & Wyre area of the UK.
STAMMA At Work
A group for those people who stammer who want to get into, get on and get the most out of the world of work.
Women Who Stammer
A supportive closed Facebook group run by a diverse group of women who stammer, for women who stammer. 
Women Who Stutter: Our Stories
A closed Facebook group for women who stammer to share their experiences.
STAMMA Striders
A closed group for people who enjoy walking in the great outdoors of the UK who happen to stammer or have an interest in stammering. The group arranges walking events.
Passing Twice
A Facebook group for LGBT+ people who stammer and their allies.

other Websites
Scottish Stammering Network
A charity providing free support groups and open days for people in Scotland. They also have a Facebook page.
Stamily
Stories, blogs and videos aimed at bringing people who stammer together.
Franky Banky
Author and illustrator Daniele Rossi presents the adventures of Franky Banky, the comic fox who stammers. 
PODCASTS
'Around The Block'. Listen to our very own podcast! Gemma & Matty chat openly about life with a stammer. Series one available now.
'Oh and on that note...'
In association with the Scottish Stammering Network. 'Get some people around a table, some of whom happen to have a stammer, and chat nonsense. We raise current news topics and link them to something we ACTUALLY want to talk about.'
StutterTalk
A US-based podcast 'dedicated to talking openly about stuttering.'
Stuttering Is Cool
Regular podcast from Canada-based Daniele Rossi. Daniele says, 'Join me as I offer encouragement and methods on how to manage your stuttering and live the life you want. I interview people who stutter, report on what's happening in the stuttering community around the world, the latest on stuttering research and therapy.' Listen to the edition featuring Stamma's very own Jane Powell here. 
Check out The Franky Banky Podcast too, where Daniele reads and describes his comics.
Women Who Stutter: Our stories
Inspiring interviews with women who stammer from all over the world.
Message Boards and Forums
r/Stutter
A Reddit forum around stammering. You will need a Reddit account to take part. 
Neuro-Semantics of Stuttering   
This Yahoo group focuses on neuro-linguistic programming (NLP) and neuro-semantic tools. You will need a Yahoo account to join. 
Safety
Remember: you should not give out personal information in chat rooms, mailing lists, etc. Read more at the Childnet.com website.
If you know of any other websites or groups you find helpful, let us know. Email editor@stamma.org