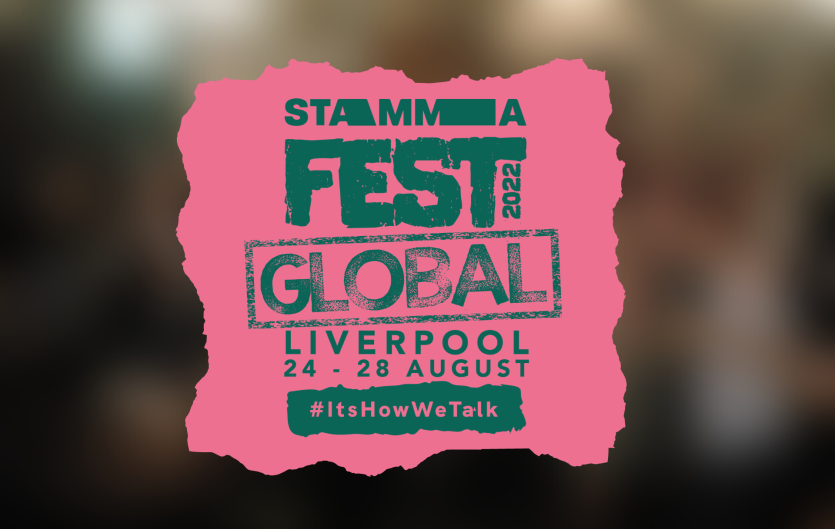 Date/time range
Wednesday 24th 5:00pm - Sunday 28th August 2022 2:00pm
Come to STAMMAFest Global, our conference on 24th-28th August in Liverpool. Buy tickets now! The closing date for buying tickets is 12 noon on Sunday 14th August.
Our first conference since 2018 is going to be bigger than ever! We're combining it with the International Stuttering Association World Congress, so this will be a 5-day event instead of 3, with guests and speakers coming from all over the world.
Programme
There'll be a packed programme of events, with workshops and inspiring talks on topics including (subject to change):
Empowering ourselves in the face of stammering stigma
Embrace your (un)confidence
Exploring stammering through performance art
Is there beauty in stammering?
Expanding our comfort zones with virtual reality
Brains that stammer: a very accessible overview
Daily open mics
And much, much more.
ENTERTAINMENT
There'll also be:
Saturday night live music and street food
A Friday night quiz with fish & chips (or veg alternative)
A sightseeing tour of Liverpool
A welcome reception.
Family Day
Alongside the conference, on the Saturday (27th August), we're also running a day for children, young people and families. There'll be fun, confidence building activities for 5-15 year-olds as well as information sessions for parents and guardians. For more details, see the STAMMAFest Family Day event page.
find out More
Go to our STAMMAFest Global website for more information and FAQs. 
PRICES 
You can buy single tickets, full or partial tickets. If you are attending more than one day, it is cheaper to buy a full or partial ticket than a daily ticket. See the table below. Prices do not include accommodation (see the 'accommodation' header below).
If you need any help, don't hesitate to contact us. Email mail@stamma.org or phone 020 8983 1003.

*If you are planning on arriving on Friday evening for the weekend and want to come to the quiz and chip supper event, you'll need the Friday Evening ticket and the Weekend Ticket.
PRICES INCLUDE 
Ticket prices include the conference plus entertainment and food, as listed in the table below. The event kicks off on Wednesday evening with a reception and welcome. On Friday afternoon there will be a Liverpool sightseeing event, followed that evening by a chip supper and a quiz. On Saturday there will be a dinner and evening entertainment.

ACCOMMODATION
Accommodation needs to be booked and paid for separately. Bookings for University accommodation is now closed. You can still book tickets for the conference but you will need to find alternative accommodation at local hotels, BnBs or with AirBnB.
If you have any questions, see the FAQ page on our STAMMAFest Global website. Or you can email stammafest@stamma.org or phone us on 020 8983 1003. 
Join the STAMMAFest Global 2022 Facebook Group too. Find out more about the University of Liverpool venue.