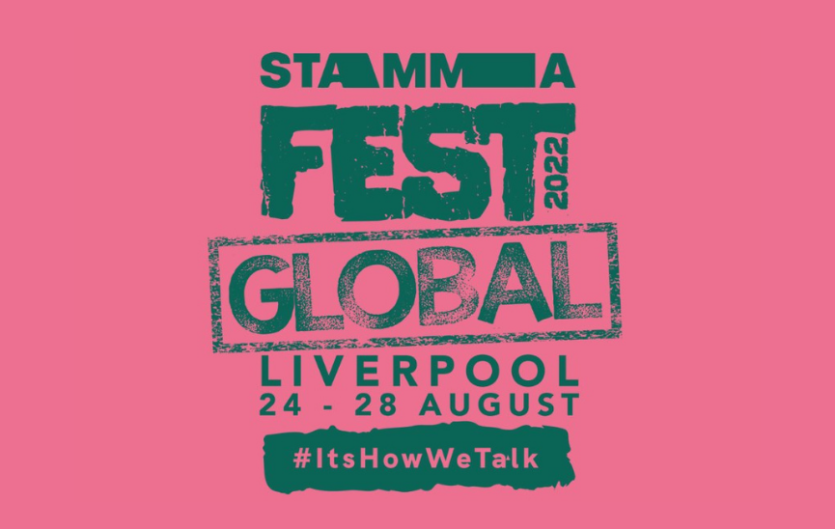 Come to STAMMAFest Global, our next conference, this August in Liverpool. Buy tickets now!
STAMMAFest Global is an international conference on stammering, or stuttering, held on 24th-28th August 2022 at the University of Liverpool, UK.
It will combine our own biennial conference with the 14th World Congress of the International Stuttering Association. There'll be workshops, speakers, debates, activities, music, open mic and much more. We invite the world to come and celebrate stammering and showcase all the great ways in which the stammering community works together in the UK.
PRICES 
You can buy single tickets, full or partial tickets. If you are attending more than one day, it is cheaper to buy a full or partial ticket than a daily ticket.

*If you are planning on arriving on Friday evening for the weekend and want to come to the quiz and chip supper event, you'll need the Friday Evening ticket and the Weekend Ticket.
Prices do not include accommodation (see the below for more details on accommodation).
PRICES INCLUDE 
Ticket prices include the conference plus entertainment and food, as listed in the table below. The event kicks off on Wednesday evening with a reception and welcome. On Friday afternoon there will be a Liverpool sightseeing event, followed that evening by a chip supper and a quiz. On Saturday there will be a dinner and evening entertainment.

ACCOMMODATION
Accommodation needs to be booked and paid for separately.
Book your accommodation here. 
Accommodation on site at the University of Liverpool in the student halls is either £55 (single bed) or £65 (double bed) and includes breakfast. You are also welcome to make your own arrangements, such as staying in a local hotel, AirBnB or with friends. Find out more about the University of Liverpool venue. 
The cost of the full conference ticket is £280, rising to £500 if you book 4 nights of single accommodation in the student halls of residence.
If you have any questions, email stammafest@stamma.org or phone us on 0208 983 1003. 
See our minisite stammafest.org for more conference details. Join the STAMMAFest Global 2022 Facebook Group too.