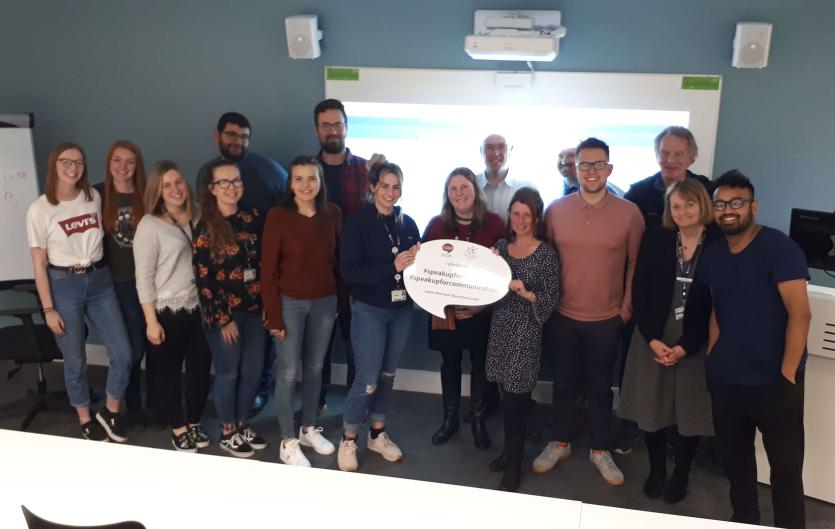 Monthly meetings in Birmingham for people who stammer.
Times & venue
*Due to Covid-19, the Birmingham Stammering Network are now holding events online over Zoom, which are open to anyone in the world. See their Eventbrite page for details of all their upcoming events.
When it can meet in person again, meetings are held monthly (dates vary) at various venues in Birmingham city centre or at one of the local university campuses.
Contact
Email Abed and Gillian on birminghamstammeringnetwork[@]gmail.com
Visit their Facebook page. 
Twitter: @Bhamstammering
Instagram: @stammabirmingham
Notes
Abed and Gillian say, "This is a new community group aiming to make Birmingham and surrounding areas a better place for people who stammer. We are led by a small steering group which includes people who stammer, local speech & language therapists and students.
'We hold monthly events — some only for people who stammer (socials) and some open to everyone (formals). During our socials, we play a lot of fun games and it is very laid back. During our formal events, we have a maximum of 2 speakers (who stammer) presenting a topic of their choice. They also share words of wisdom & run a couple of activities for the audience. All events will provide you with opportunities to meet with, talk to and learn from others in a safe, pressure-free and friendly environment. Taking part is optional! 
'Due to COVID, all of our events are now on ZOOM and are open to everyone around the world!
'Information about previous and upcoming events can be found on our Eventbrite page.
'If you have any questions or would like additional information, please don't hesitate to get in touch with us using the details above."